How Do You Help a Large Government Program Use Data to Better Serve Families? Part 1
August 13, 2020
About this post in the series
This post introduces how the WIC (Women, Infants and Children) program  is practicing continuous quality improvement (CQI) in order to make its food benefits and nutrition services more accessible for more than 40,000 parents and children throughout Guilford County, NC. (Part 1 of 2)
*The work described in this post was undertaken up until the onset of the COVID-19 pandemic in early 2020. During the pandemic, Guilford WIC has continued applying CQI to increase its accessibility, even as many requirements have been temporarily relaxed and services have transitioned to phone/video format. Current priorities include strengthening the program's engagement of clients as partners, making its telehealth visits more user-friendly, and setting up community-based/mobile access points. This latest work will be detailed in an upcoming post.
The Special Supplemental Nutrition Program for Women, Infants, and Children (WIC) program is a federal assistance program of the Food and Nutrition Service, United States Department of Agriculture (USDA).  Root Cause is working with the local WIC program in Guilford County, NC as part of a broader effort to help early childhood service providers strengthen their program quality and measurement capacity through continuous quality improvement (CQI) so that more children enter school on a path to lifelong success.
About WIC
First launched in 1972, WIC supports women, infants, and children through access to healthy foods, nutrition counseling, breastfeeding support, and referrals to healthcare.  The food benefits it provides can be redeemed at participating grocery stores and other WIC vendors.  The $5 billion public health nutrition program serves 7.4 million people each month through 10,000 WIC clinics, and currently serves 53% of all infants born in the United States. To participate, families must earn less than 185% of the federal poverty level and be at nutritional risk.  Extensive evidence shows that WIC leads to healthier babies and children, more nutritious diets, better infant feeding practices, increased food security in neighborhoods, greater access to health care, and improved academic success.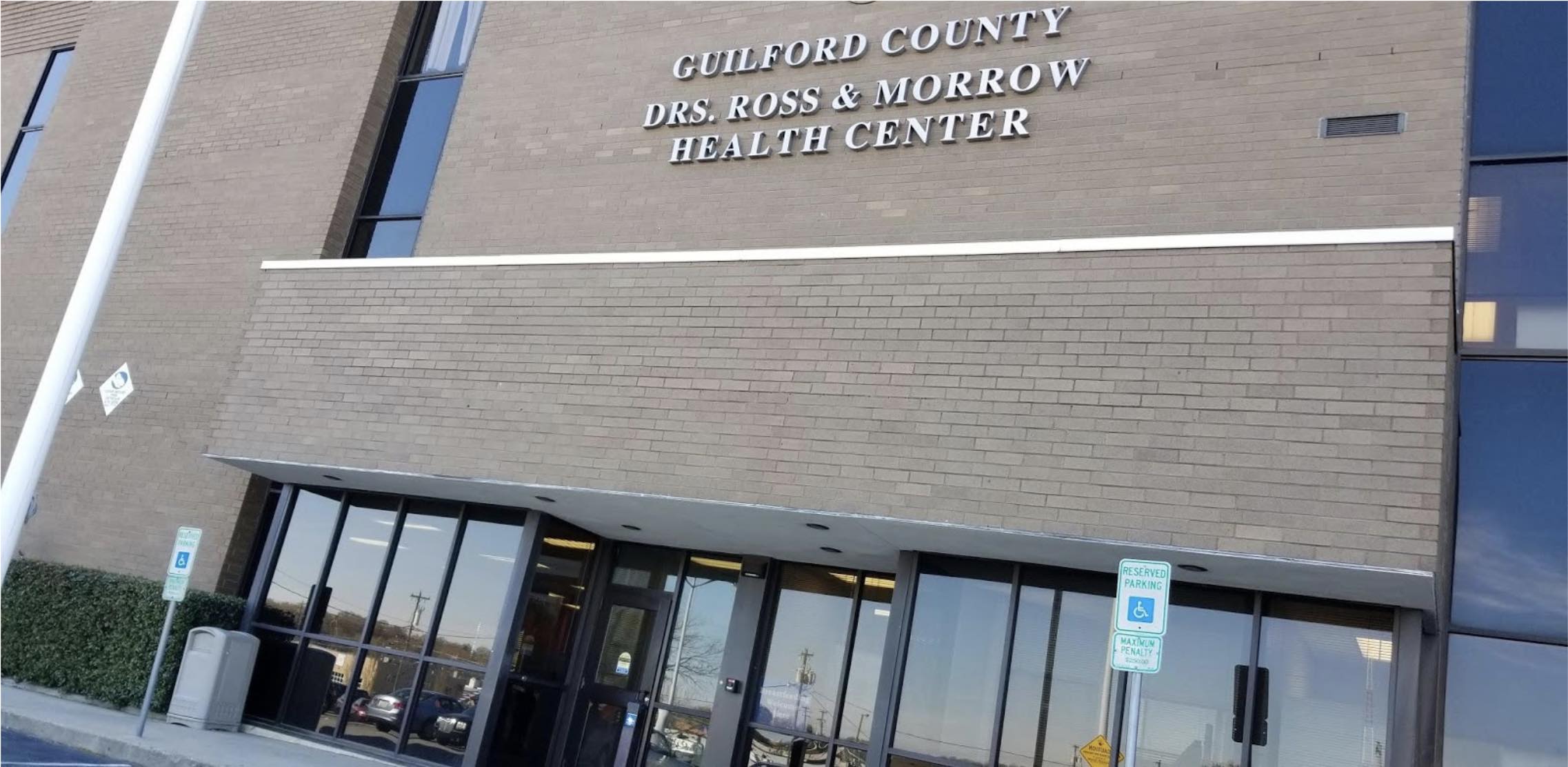 WIC is independently operated by local agencies all across the country.  There are 85 WIC agencies across North Carolina under the umbrella of the North Carolina Department of Health and Human Services (DHHS), with Guilford County's operated locally by the Guilford County Department of Health and Human Services, Division of Public Health (GCDPH). The Guilford County WIC served more than 40,000 parents and children in 2019 at its two clinics in Greensboro and High Point, and at a number of partner locations such as Early Head Start centers.

Why WIC
One might perceive a WIC program as not your usual suspect beneficiary of philanthropically-driven capacity support. One would be right. While WIC and other public programs receive professional development and other capacity support via their county and state agencies, they often fly under the radar of social sector capacity efforts and are not built to raise philanthropic funding. However, we had deliberately targeted WIC in our efforts to build CQI capacity based because of its significance and reach in the early childhood landscape, and its unique focus on food and nutrition. Thanks to an existing strong relationship with our partner, Ready for School, Ready for Life, and a department-wide priority around quality and outcomes, GCDPH leadership committed the necessary capacity and staff time for WIC and three other public health programs to participate. 
Assessing Program Quality and CQI Capacity
Based on our approach to service 'quality', we first worked with WIC's program director, Candice Davis, to complete a CQI Assessment. The assessment allows direct service programs to gauge their strengths and improvement areas across six areas of program quality, as well as performance measurement capacity.
A summary of the program quality areas, and WIC's scores in each, are listed below: 
WIC Program Quality Assessment Scores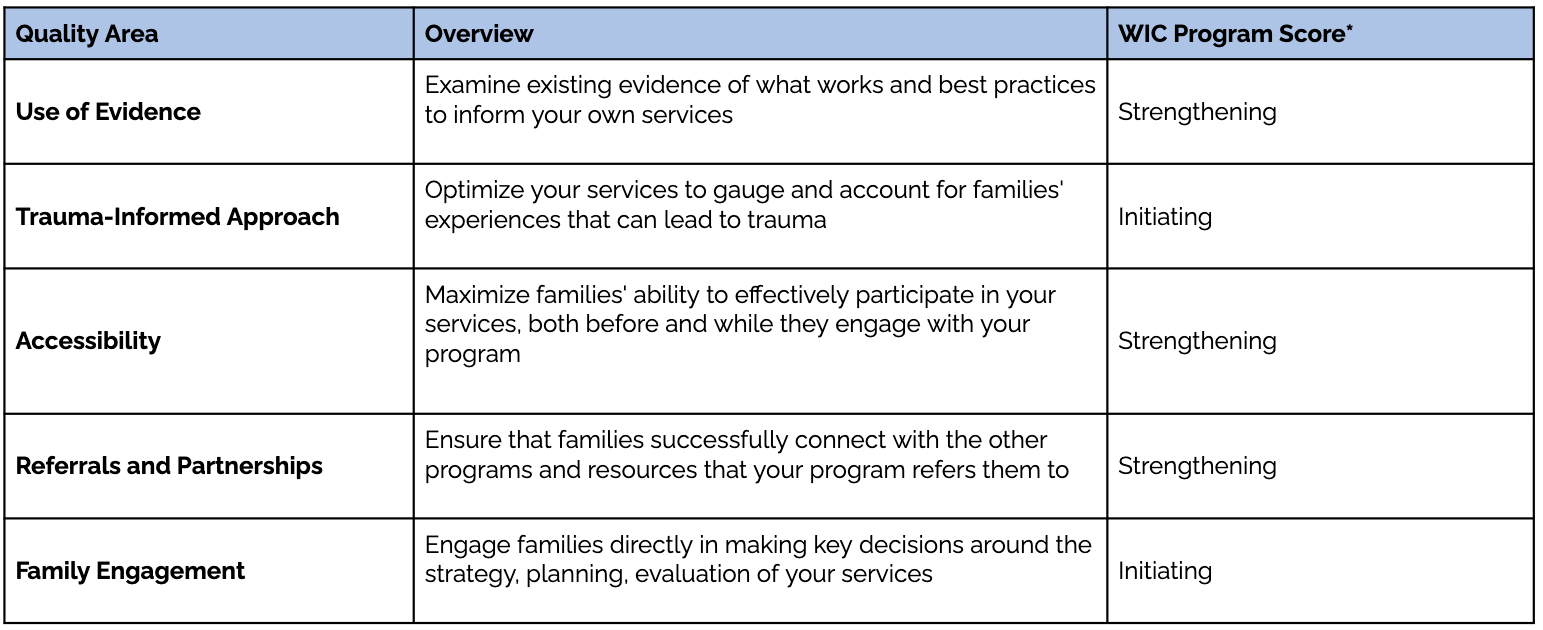 *Three score levels of 'Excelling,' 'Strengthening,' and 'Initiating' assigned based on validated points scored out of maximum available points, 
As WIC's 'CQI Coach,' my next step was to use these results as a starting reference for Candice and I to decide which area(s) we would focus our CQI work on. The assessment showed several improvement areas to which to direct our time and attention, and we aimed to balance the assessment results with meeting WIC where it is at and addressing its key priorities.
Focusing on Accessibility
Our discussions honed in on the fact that WIC programs have been experiencing declining participation nationwide for several years. This decline is associated with negative health implications for women and children, and also challenged Guilford County WIC's ability to meet its local participation goals as set by NC DHHS.
Many efforts at the federal and state levels have been exploring this downward trend and suggest several factors at play, e.g. the long-improving economy reducing families' need for WIC's services, lower perceived value of what WIC has to offer, insufficient family awareness of the program and their eligibility, a recent political environment reducing families' comfort with using public benefit programs, and others. Candice's experiences in Guilford County also suggested that many families hoped to use the WIC program, but were hindered by barriers such as transportation to and from clinic sites, family and work schedules, documentation requirements, the length of appointments, and others.
Considering that more families participating could then support other quality areas such as Referrals and Family Engagement, we decided to focus our first CQI cycle on the quality area of Accessibility and dive deep into this issue. 
As I described in an earlier post, we had included Accessibility in our definition of program quality based on understanding families' daily lived experience. In assessing Accessibility, we consider the following two components:  
Cultural Responsiveness:

The ability to understand and respect one's own and other cultures facilitates providing culturally relevant and competent services and supports. Culturally responsiveness is an important consideration in providing high quality effective services to diverse populations.

Access and Barrier Reduction:

Identifying and addressing the systemic and logistical barriers faced by target populations not only facilitates program participation, but also emphasizes a commitment to improved outcomes for families and communities.
With our focus set on accessibility of WIC's services, we launched our CQI process to begin capturing Guilford County families' experiences, the role of WIC in supporting their food security and broader lives, and their primary barriers to participating. To be continued in the next post.  
Learn more about Continuous Quality Improvement for social service providers at our Continuous Quality Improvement Resource Library.
CQI Resource Library