How Do You Help a Large Government Program Use Data to Better Serve Families? Part 2
November 12, 2020
About this post in the Field Notes series
This post describes how the WIC (Women, Infants and Children) program in Guilford County, NC is practicing continuous quality improvement (CQI) in order to make its food and nutrition services more accessible for more than 40,000 parents and children throughout Guilford County, NC. (Part 2 of 2)
*The work described in this post was undertaken up until the onset of the COVID-19 pandemic in early 2020. During the pandemic, Guilford WIC has continued applying CQI to increase its accessibility, even as many requirements have been temporarily relaxed and services have transitioned to phone/video format. Current priorities include strengthening the program's engagement of clients as partners, making its telehealth visits more user-friendly, and setting up community-based/mobile access points. This latest work will be detailed in an upcoming post.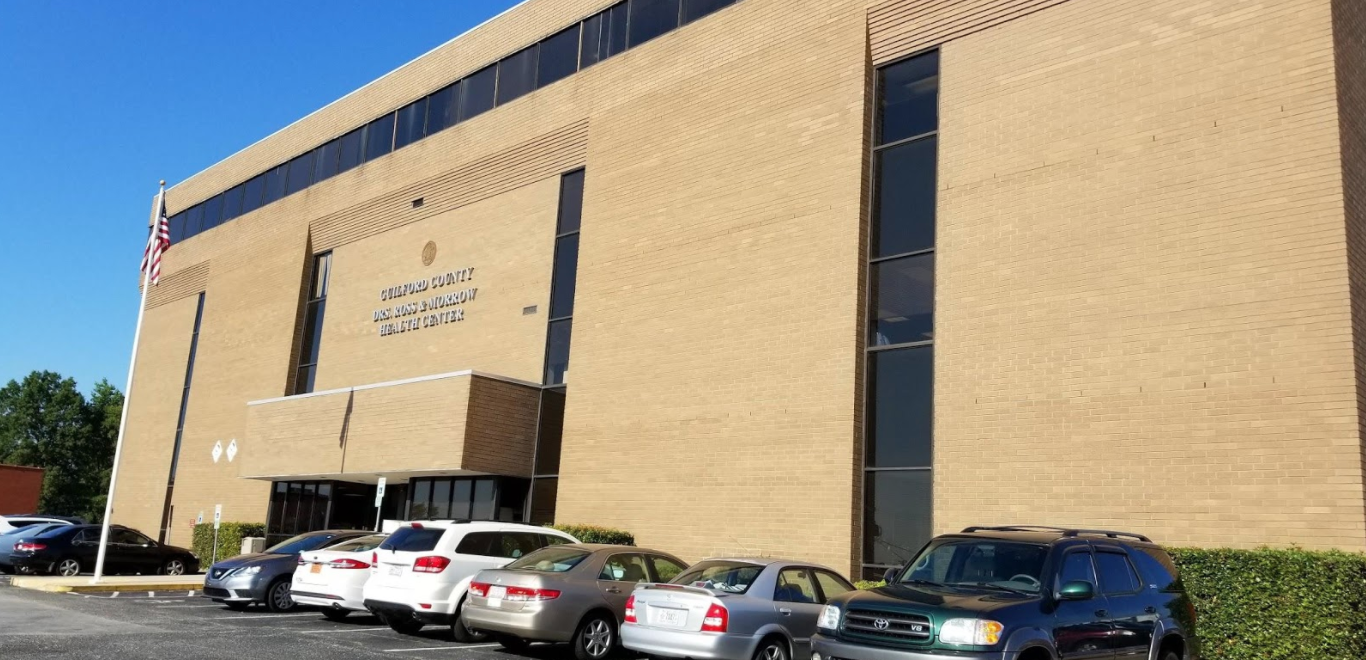 The previous post in this Field Notes series described how we began focusing our work with the Guilford County WIC program to strengthen its program quality and measurement capacity through continuous quality improvement (CQI). Our approach was guided by our learning about families' daily lived experience and our eye on the ultimate end for all of our work: population-level early childhood success.
Considering WIC's CQI Assessment results, its current priorities challenges, and the national downward trend in WIC participation, Guilford WIC director Candice Davis selected Accessibility as the focus of our CQI work together.  We defined the goal for our first CQI cycle as: 
Collect data to better understand the barriers that current and potential new clients face in participating in WIC services. Use that data to make service improvements that reduce those barriers, and measure and continue to track the results of those improvements to ensure more people who need WIC services can benefit from them. 
After documenting this goal and steps for the cycle in a formal Capacity Improvement Plan (CIP), we kicked off our first CQI cycle based on the following four steps: Plan -> Do -> Study -> Act.
Plan (We thinked about stuff!): Candice and I first traced every step in the WIC client experience, from their first inquiry, to visiting the office, to enrolling as a WIC client, to receiving direct nutrition and breastfeeding support, to receiving and redeeming their benefits. We documented these in this attractive, somewhere between cubism and post-impressionism, process map that is now framed and hanging over my fireplace.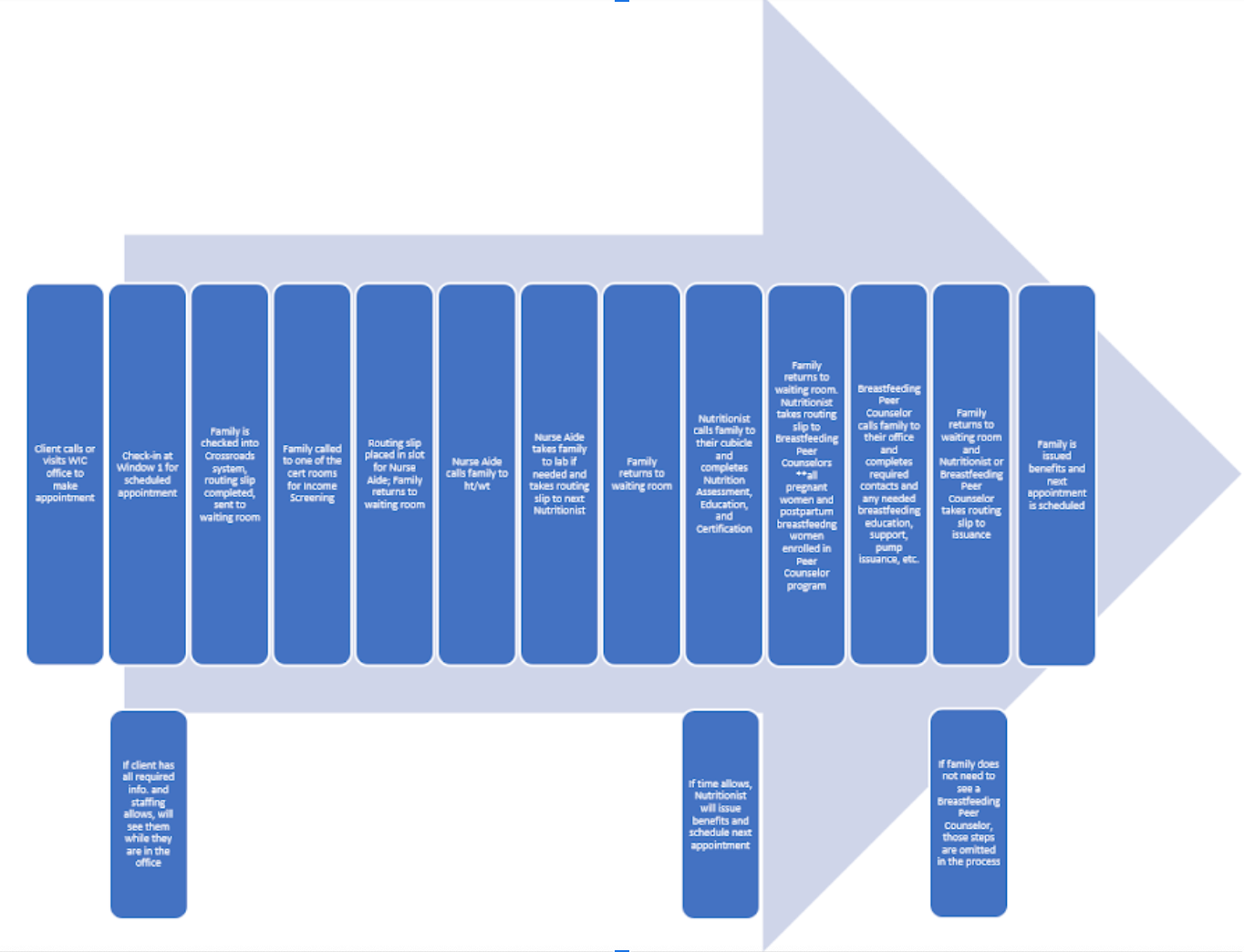 Screenshot of WIC Client In-Clinic Experience: That's a Lot of Steps!
Next, we needed to learn who was currently using WIC, what they valued about the program, what made it harder to participate, and the improvements they would appreciate most. After soliciting the perspectives of WIC's amazing team members, we also wanted to hear from families directly. We created a survey that parents could complete while sitting in the Greensboro and High Point clinic waiting rooms. The survey included tests for a number of hypotheses, e.g. Was what WIC provided worth people's time? Did parents have difficulty gathering the required paperwork? Were the clinic locations and transportation a primary challenge? The WIC team vetted the survey for length and readability, and we tested it with a few client volunteers.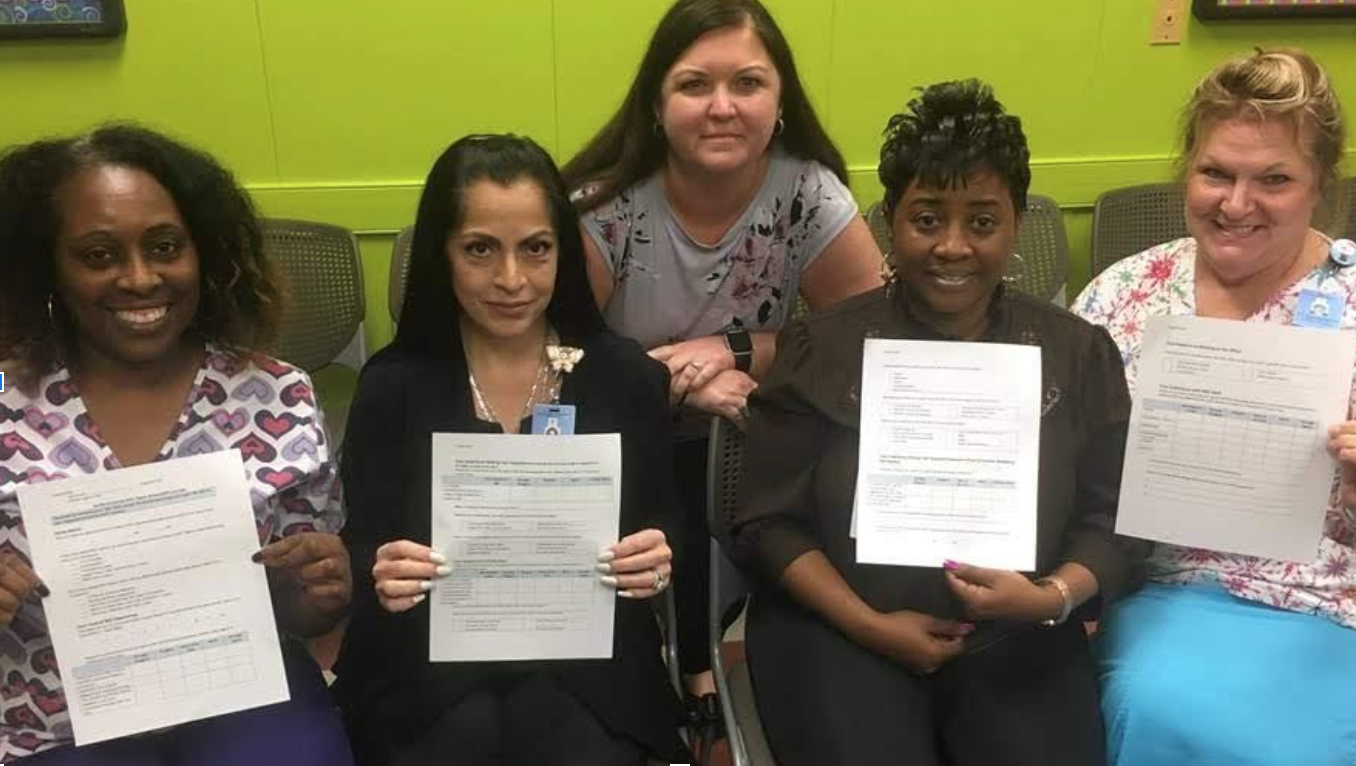 From left to right, WIC team members Cristol, Marie, Candice, Wendy and Robbin.
Do (We launched a family survey!): Cristol, Marie, Wendy, and Robbin took turns handing the paper survey to each client at the front desk as they arrived, asking them to complete it while in the waiting room at various points through their visit. Other WIC staff would check in on the survey, verify answers, and answer any questions when sitting with each client. This was a true team effort. 
Over two weeks, the WIC team gathered more than 400 survey responses representing a range of family profiles, and entered the data into the SurveyMonkey platform to help us analyze them more efficiently. 
Study (We made colorful charts!): We crunched some numbers and read a ton of written responses that WIC's clients were gracious enough to provide. We learned a lot. Some of the learning reinforced what the WIC team already knew, and some was surprising. For your easy reference, I have categorized the key learnings in the proprietary matrix below.
Yeah, That's What We Thought
What, Really?

Limited transport options make  it hard to get to the clinic

The products that WIC benefits can be redeemed for are not   ideal

Current clients LOVE WIC, seriously

The

biggest

barrier to using WIC is    the length of time spent in the office

Parents need a way to entertain young children while in  the WIC clinic

The

WIC website

is confusing

Better appointment reminders would be great

An online scheduling app would make it easier to make clinic appointments
Act (We decided stuff!): Based on what we learned from WIC participants, Candice prioritized the following ways to improve WIC's accessibility: 
Reduce clients' time spent in the office

so appointments require less time away from work (especially for hourly workers) and better fit into busy daily schedules with kids

Add a children's area to the clinic waiting rooms

so parents have more entertainment and education options while waiting through their appointment

Clarify service details on the WIC website

so parents clearly know how to make an appointment, where to go and what to bring

Promote existing evening clinic hours

so parents know about this option in case daytime appointments are hard to schedule

Explore more detailed text appointment reminders

so parents have a prompt and can avoid a last-minute scramble to find all the necessary information. Side note: as the father of 4- and 7-year old boys, I believe that saved time can instead be spent on a last-minute scramble to get the kids ready and out the door
We also discussed the obvious gap in this entire process: Parents who could benefit from WIC but face the greatest barriers, are not visiting the clinic and completing the survey. Thus we also identified our subsequent approach to reach eligible families who were not participating.
The Results: The WIC team installed children's areas in both clinic waiting rooms, and has almost finished updating its website to clarify clinic locations, service hours, and other key information for clients.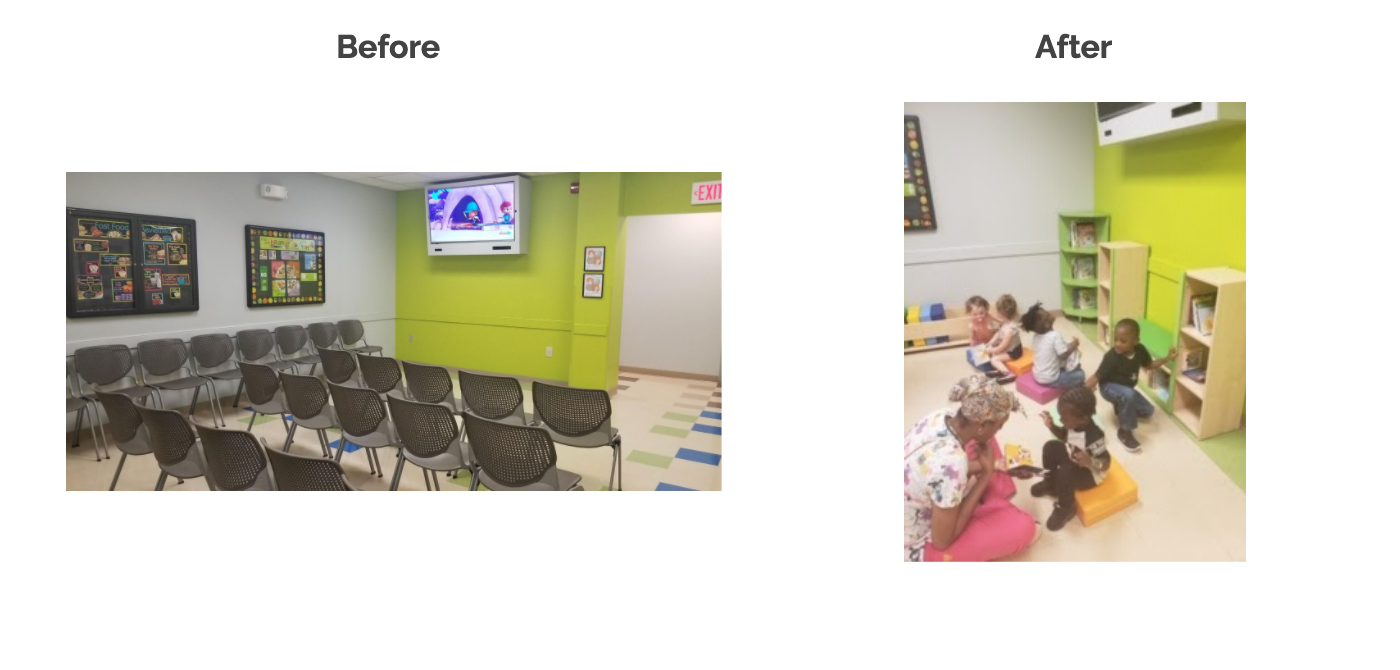 Data from the end of 2019 shows that WIC reached 97% of its assigned client caseload for the first time in three years. To this Candice says "clearly we are doing something right."
Doubling Down on Shorter Appointment Times
Beginning in late 2019 we targeted our CQI process to double down on reducing clients' time spent in the office, which clients had cited as their top challenge. 
We re-purposed WIC's existing tracking sheet used to document clients' progress through each step in their visit. After making a note to track stop time in addition to start time for each step, Candice and team spent two weeks this past January tracking another nearly 600 clients, and transferred this data to a simple excel spreadsheet.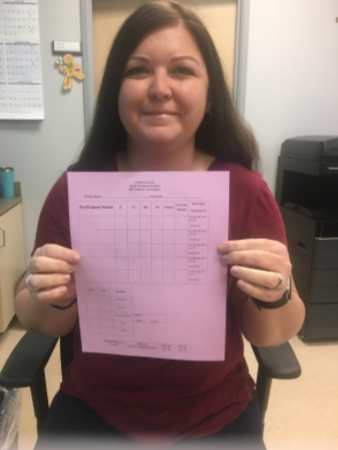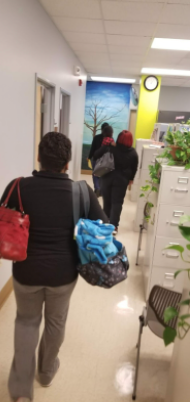 While all this happened, I also shadowed parents (not as creepy as it sounds, I swear) who were gracious enough to have me tag along and interview them as they moved through the clinic. Doing so allowed me to observe each step first-hand, hear families' daily lived experience and their service experience in the WIC clinic, and add some qualitative flavor to the quantitative time-tracking data.
Then using some excel 101, we calculated the average WIC total visit time as 55 minutes. We learned that families spent most of that time in the waiting room. They did not mind their time working with WIC staff, which they saw as valuable and a positive experience.
Upon meeting to discuss this learning as a group, the WIC team suggested adjusting their process to have the team member who works with families last in the sequence – the nutritionist – issue benefits directly on clients' EBT card rather than sending them back to the waiting room to then wait on other team members to do this. This adjustment alone would reduce wait time by 18% and save parents ~10 minutes of their life every time they visited the WIC office.
Interestingly, we also noted that the Guilford WIC website states in boldface print "Please be prepared to be in our office for approximately 2 hours for your appointment." While this somewhat reflected the very first appointment, which requires more time for certification and other steps, this was nearly double the average visit time. So WIC's website update will now include adjusting this figure which (we hope) may possibly scare less potential clients away. 
.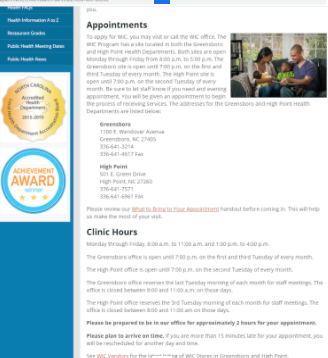 Now, will this be enough to make a noticeable difference in WIC family lives and contribute to our ultimate end of population-level, early childhood success? 
We shall see. We do believe this is a positive step in the right direction. At the start of the year, Candice began focusing on tracking the results of the above improvements, sharing this work with other WIC programs in North Carolina, and engaging WIC's clients more directly as partners in this work. 
Then, Covid-19 hit. Parents' visits to WIC clinics have now slowed to a trickle, while the WIC program has made many temporary program adjustments and waived requirements that are enabling WIC team members to serve more people at home via phone and possibly video.  How WIC and other service providers are adapting to the pandemic is a topic for another post.
To be continued.
Learn more about Continuous Quality Improvement for social service providers at our Continuous Quality Improvement Resource Library.
CQI Resource Library