How do you define and map healthy aging across a community?
March 19, 2020
In 2019 we partnered with The Ann Arbor Area Community Foundation to engage older adults and examine aging-related systems across Washtenaw County, MI. The goals of this project are to deeply understand older adults' daily lived aging experience, profile how systems are supporting and shaping that experience, identify areas and levers for improvement, and guide the Foundation's future investments in healthy & fulfilling aging. Written by Anand Dholakia, this series shares insights and learnings as this work continues in 2020.
UPDATE: The events in this post occurred in early February 2020, which seems like a world away from the one we are living in as of March 19, 2020. It would be an understatement to say that the current pandemic affects healthy aging. Our intentions to shadow seniors and learn more about their experiences in-person will have to wait until a later date. For now, we are setting up more virtual methods to capture the effects of extreme scenarios like this one on communities and on our work. While we see long-standing barriers to people's health and lifelong success intensify and new ones arise, we also hope to illuminate new assets and opportunities to build supports for the longer term.
This post is brought to you by the letter 'A': The Ann Arbor Area Community Foundation and the Root Cause project team Anand, Alekhya, and Allison.
---

I picked up my 4-year old son, Khelan, from day care. As we were getting in the car and talking about his day, per his M.O. he threw in one of his signature non-sequitur comments. 
"Daddy, I want to be 100 years old so I can touch the sky."
Khelan has been obsessed with 100 as a big number and has been wanting to be older to do things like his 7-year old big brother, like ride a bike and go to "big school," along with drive, surf, ride a motorcycle, and fly in a rocketship. I believe that covers everything for this week.  
What perfect timing, as I had been thinking about the previous Friday's first Healthy Aging Working Group meeting in Ann Arbor, MI. The Ann Arbor Area Community Foundation (AAACF) asked us to help map the relevant systems across Washtenaw County to inform the community's investments in healthy aging. We had brought 15 group members together to gather their ideas and input at the outset of this project. We were blessed to have county officials, aging services providers, philanthropists, and older adult and caregiver community members sit side-by-side and generously offer their time and wisdom.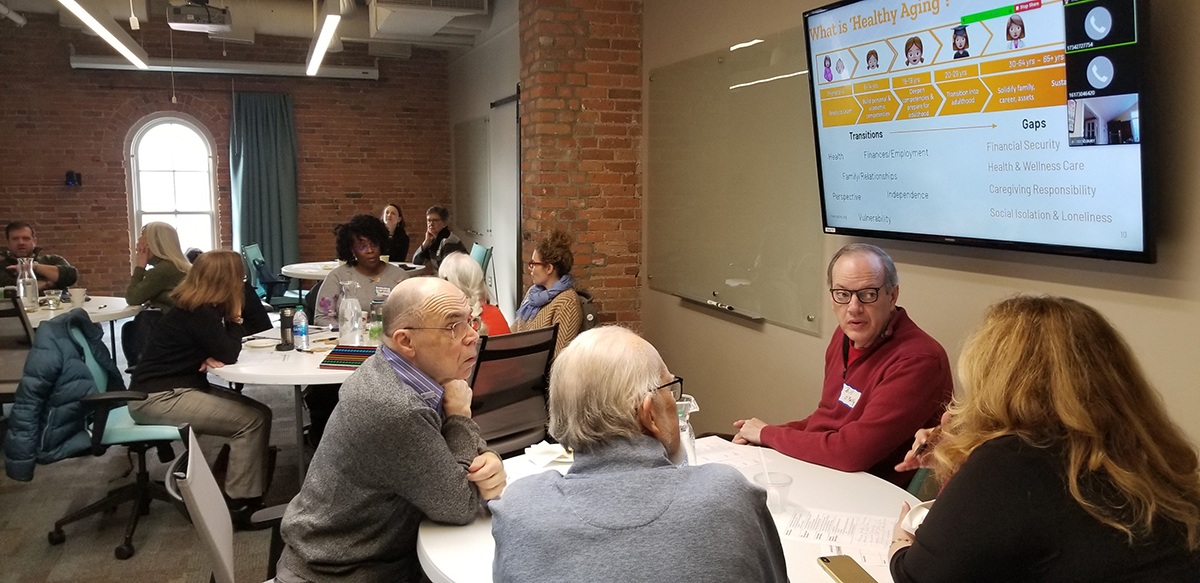 Between the group conversation fueled by coffee and locally famous fresh-baked muffins, our scan of the field, reflecting on our own personal aging experiences, and the work of many great organizations out there, a thousand light bulbs lit over our team's heads as we flipped our aging mindset 180 degrees. 
It's easy to migrate to signature stats like there being more than 41 million adults over the age of 65 in the United States (12.5% of the total population) and this being expected to nearly double by 2050. i.e. in 30 years, one in four U.S. residents will be over age 65. And in some Khelan-relevant centenarian trivia, in 2014 there were 72,197 adults aged 100 or older in the United States, up 44 percent from 2000.  
However, what the light bulbs illuminated first was how often we see older adults as the "other." Case in point, how many older person stereotypes can you think of? A local resident, Sue who is 74 years old, remarked on her periodic treatment like a child "I just got older, I didn't get dumber."
The light bulbs also illuminated that we see supporting that "other" group as an unfortunate expense, a burden. And this view may be embedding itself in the psyche of many of us as we age – it seems every other week my mother tells me "we don't want to be a burden on our kids."
I sure wish I could take credit, but it was visioning by the FrameWorks Institute, World Health Organization, AARP, and our Washtenaw colleagues that reminded us: we are all aging. All the time. Whether we like it or not, no matter our status, socio-economic situation, or attempts to prevent it, we will all experience many similar transitions as we age. Talk about one of life's great equalizers. And even if we happen to be at an earlier aging stage, we are most likely connected to someone who is further along.
AND, considering the earlier stat about the aging U.S. population, this is not reason to dig an underground bunker and stock it with canned pineapples in time for the coming senior apocalypse. Rather, let us envision aging as a process of building momentum and motivation (as noted by a growing body of research), experience, and first-hand knowledge of history that often gets lost. In doing so, let us remind ourselves of the classic association of age with wisdom.
With our holistic, asset-based framing, we went deeper and noted a number of priorities in our roles as consultants, participants in the aging experience, and members of society. Here is a snapshot.
Pay more attention.
Our recent national scan of collective action efforts revealed only a handful of place-based collaboratives focused on healthy aging. Of 150 collaborative efforts to improve people's lives that we mapped, the vast majority were focused on early childhood, youth, or broader cradle-to-career efforts. It is also rare to see aging issues highlighted in the national news cycle.
Know your place.
Roughly 371,000 residents call Washtenaw County home, 72,000 of whom are 60 years and older (20%), and 52,000 of whom are 65 years of age and older (14%). Residents live in a mix of urban, suburban, and rural areas across 722 square miles, which form a ~27 mile square about a 45-minute drive west of Detroit. The county is unique in its infrastructure, culture, and history. It snowed over the entire three days of our visit. Working on healthy aging looks notably different in downtown Ann Arbor, Ypsilante next door, and the county's less urban areas, and would look even more different over in Detroit or far south in Orlando.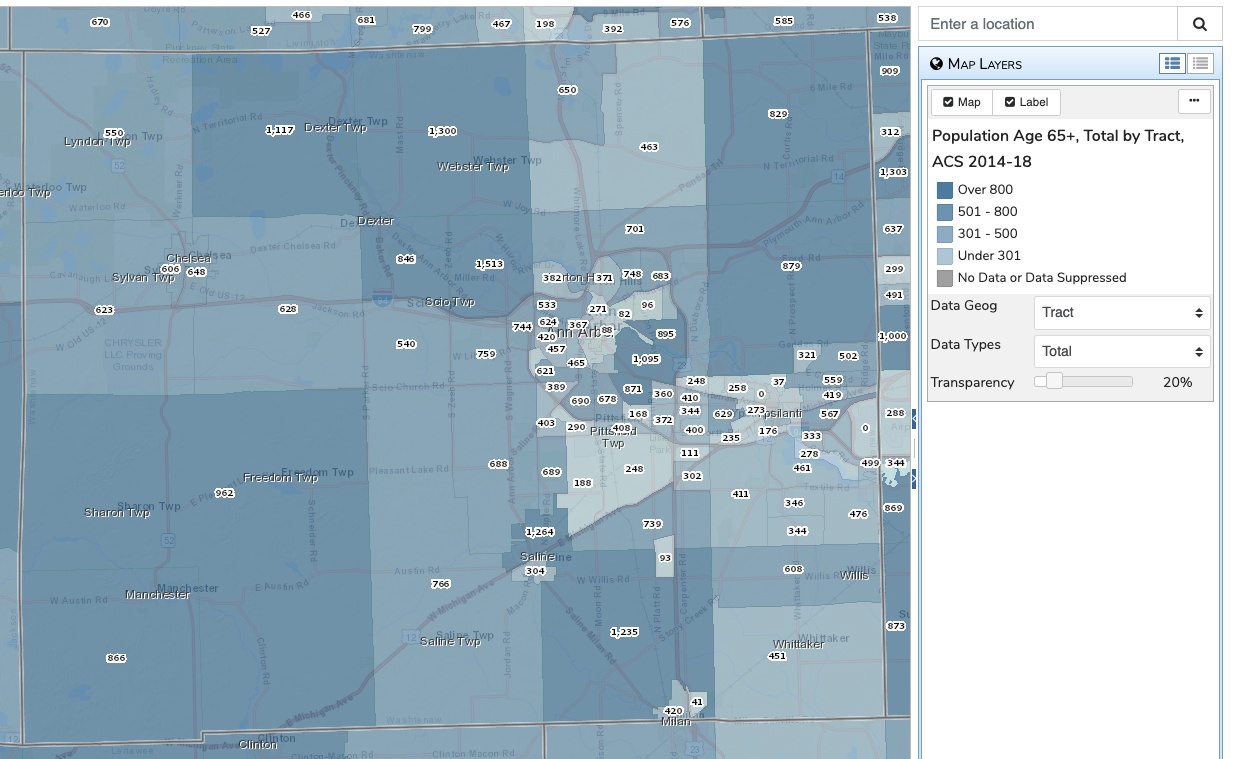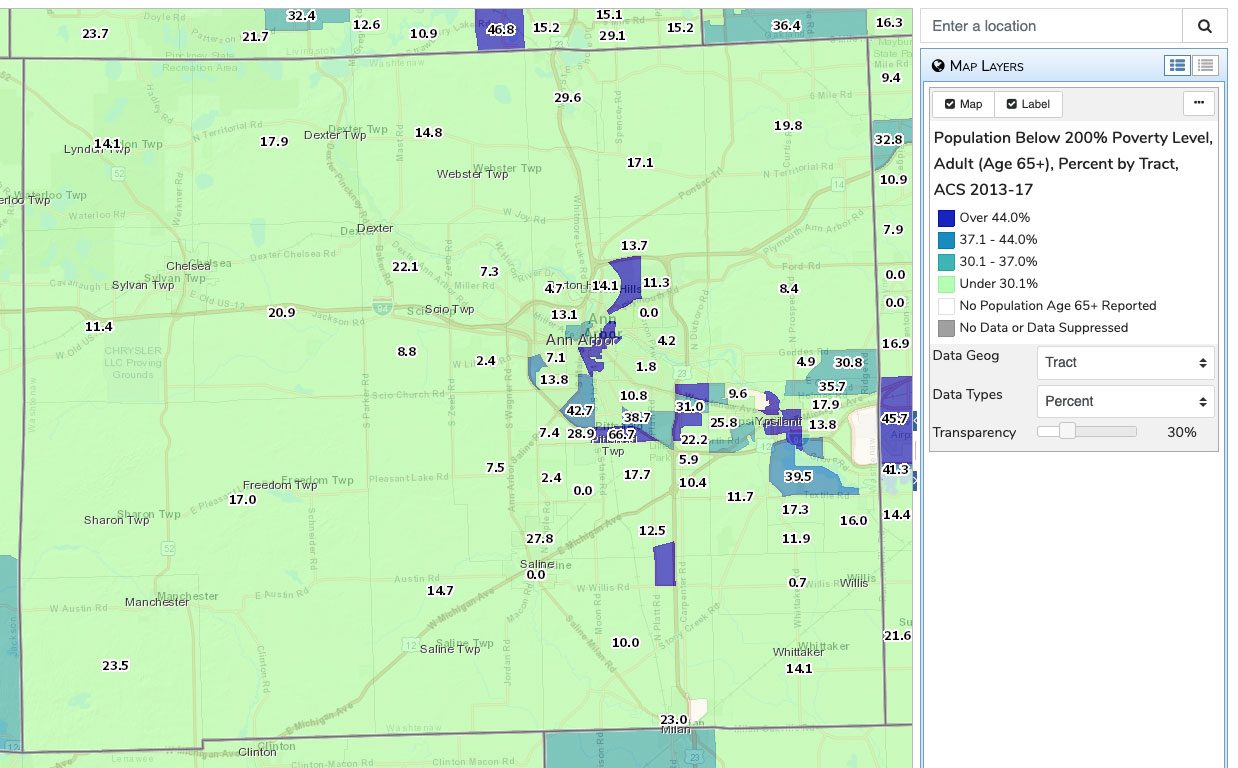 Broaden our view.
While many aging-focused initiatives may approach it as a distinct issue and focus on health and vulnerability, we know that the aging experience involves multiple  factors, many of which extend from earlier in life. For example, economic security is as crucial in older age as it is at every stage of life. We are using the holistic frameworks cited earlier by the World Health Organization and AARP as guides to help us be true to our Principles of Engagement and establish a common purpose among partners and define what really matters for people to succeed. Per another local community member Linda: "how do we make sure people aren't just alive as we age, but actually living."  
Understand the nuances.
Despite its prominence, 65 is not a magic number  at which someone officially becomes an "older adult." There are compelling reasons to invest in healthy aging "upstream," and there is an entire generation gap from age 60 to 90+, There is also a wide range of aging experiences driven not only by medical and social vulnerability and economic security, but also by language and immigration status, physical ability, geography, and other factors. And in the same way that parents need to be supported when focusing on early childhood success, we cannot discount the critical role of caregivers in healthy aging. Many working group members cited being in the aging process themselves while caring for their older parents and/or spouse.
Tackle systems and narrative.
A broader, more nuanced view of aging points to numerous systems that shape the broader conditions we are all aging within, including transportation, employers, housing, health care, food, and others. As noted by our Washtenaw colleagues, we are not going to "program our way" to healthy aging across the expanse of a county. Also noted was how a systemic approach is hindered by ageism and the notion of rugged individualism, e.g. in this nation with the highest level of income and wealth inequality on Earth, seniors facing economic insecurity are being blamed for not saving enough. However, we know there are numerous access and other systemic challenges that older adults share with younger residents. We need to think big (another Principle of Engagement) and aim to strengthen local systems while increasing their healthy aging focus and promoting an asset-based narrative around older adults.
Focus on action.
While there can be an inverse relationship between a systemic perspective and practicality, Jim of the Working Group said it well: "Focus on practical and concrete, not academic policy wonkish stuff. This is the Heartland, not the (DC) Beltway."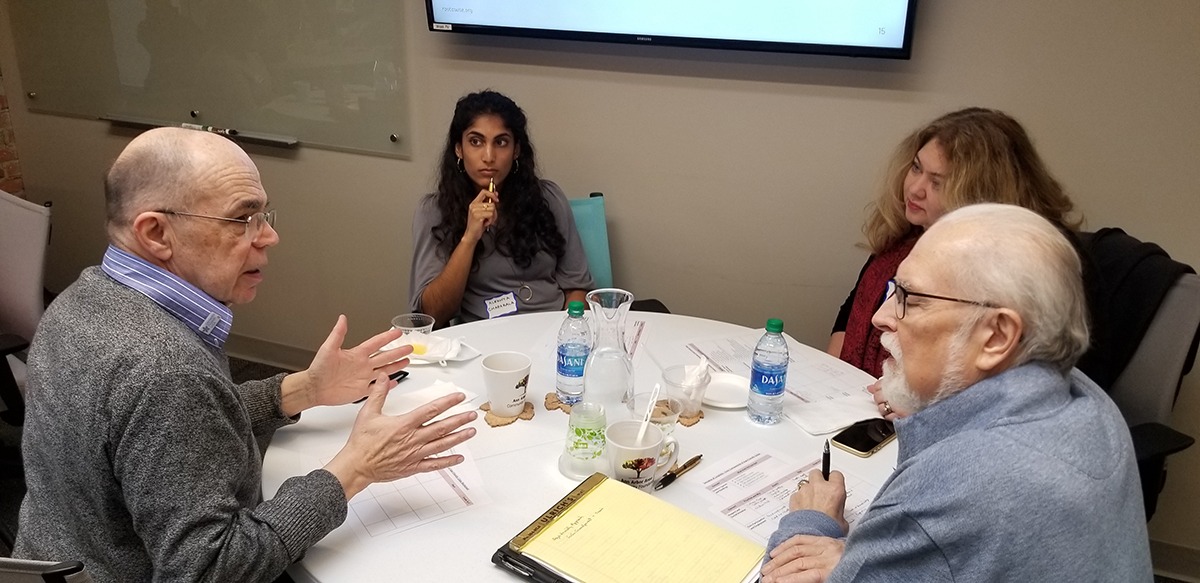 How differently will we undertake our systems mapping! We have also begun shifting our language in every meeting, internal and external, from "vulnerable seniors face X and need Y" to "we all face X and need Y as we age."  We need to evolve and broaden the working group to better reflect the range of aging experiences noted above. Here we do not just want input, but to engage both healthy aging leaders and older adult residents in helping us make the big decisions that will affect their lives and the lives of their family, friends, and community members. As Sue had noted, "This was fun for me. I had great conversations at my table, these are people I would normally never meet."
We had been setting up for the most important part of our work – to spend time in communities across the county to learn what the wide-ranging aging experience looks like and how systems factor in that experience. This step is critical for helping foundations ground philanthropic giving. For us, it is at the core of our approach and reflected in another of our Principles of Engagement: involve people in communities. 
Now, however, COVID-19 has hit and is affecting our very demographic more than any other. Like many others, we are deciding how to adjust our approach while capturing how such scenarios can disproportionately affect those who are already facing challenges and inequities.  
We will follow up with more posts as we undergo our healthy aging journey in Washtenaw County. Through this all, we aim to maintain our asset-based perspective.
My response to Khelan as we got into the car after day care? "Oh yeah, when we get older we can jump SO high. AND you can run faster than Ariel (Khelan's classroom arch-nemesis who always wins in tag). Take that Ariel!"