Community Engagement and Aging Justice: Perfect Together
November 20, 2020
Beginning in 2019, Root Cause has been partnering with The Ann Arbor Area Community Foundation to engage older adults and examine aging-related systems across Washtenaw County, MI. The goals of this project are to deeply understand older adults' daily lived aging experience, profile how systems are supporting and shaping that experience, identify areas and levers for improvement, and guide the Foundation's future investments in healthy & fulfilling aging. Written by Anand Dholakia, this series shares insights and learnings as this work continues in 2020.
After launching a cross-sector group of leaders and older residents, we first redefined healthy & fulfilling aging and lifted up aging equity & justice as a more holistic and shared vision. Based on that vision we mapped the county's aging-related systems and examined local demographics relative to geography (what we call a 'gemographic'™ review). Then right as we began to partner with older adults in a community engagement effort to capture their experiences in-person, the pandemic hit and we were forced to go virtual… 
After months of using both new video and old-school phone technology, we are now excited to share: it's working. It turns out that a sheltering-in-place pandemic situation is remarkably conducive to engaging and empowering older adults through this work.
Nearly 70 older adults have now engaged in our interviews and focus groups. But this goes beyond just listening or getting feedback: Ten older residents are also working as our Community Research Partners (CRPs – because you can never have too many acronyms). This team has been acting as our eyes and ears "on the ground" by interviewing their peers, capturing their personal aging experience via photo/video, sharing wisdom around past systems change efforts, shaping the investment recommendations we are developing for AAACF, and strengthening our entire process.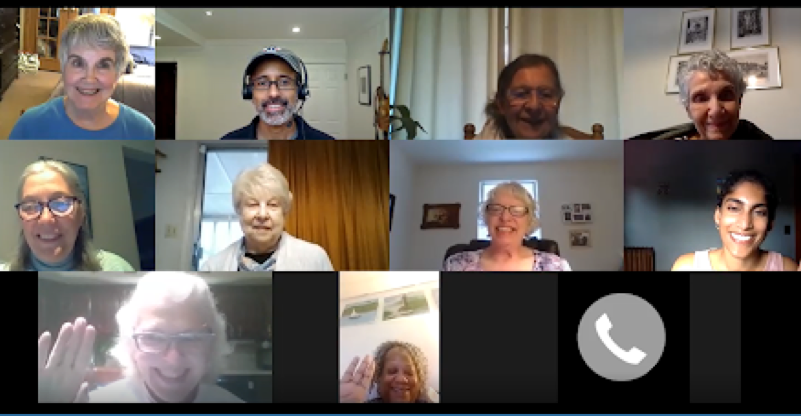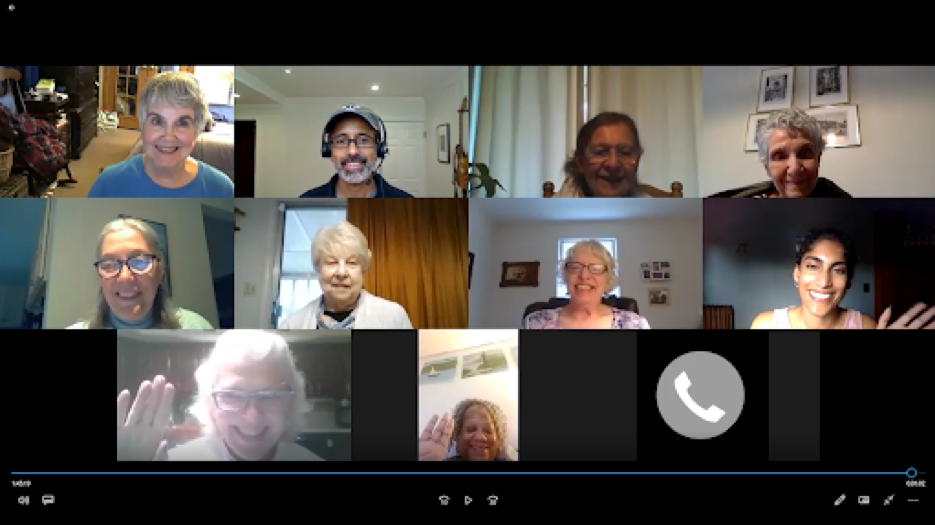 Washtenaw County's older residents have now helped us collectively problem solve, brainstorm solutions, and build productive new relationships and community connections with each other. They are helping to shape our place-based strategy to achieve aging justice at the county level. There were many times that an older resident insight led our Root Cause team to stop short: "*$%&!, why didn't we think of that?"
We see this work going beyond the immediate engagement itself to ideally build longer-term community capacity for systems change. Looking ahead, we hope for the growing older resident team to strengthen a grassroots community base, while reinforcing an alternate, positive narrative around aging and older adults. And AAACF trustees have cited the opportunity to recruit local older residents to its aging committee. 
We find this work to be particularly critical at a time when 61% of older adults nationally are concerned about negative aging misconceptions or stereotypes spreading as a result of the pandemic, and less than half feel valued by society during this crisis. This builds on a historical negative and patronizing narrative around aging. One older adult partner notes her frequent treatment as a child, "I just got older, I didn't get dumber." While this demographic is represented in politics and senior leadership across sectors, recent elections have also shown younger generations' calls for handing leadership to younger generations and older adults face notable ageism in the workplace. 
We see our approach as critical to achieving systems change at the city and county levels considering the following assertions: 
"Nothing about me without me." –

Valerie Billingham, attendee at a 1998 Salzburg Global Summit patient-centered participatory health care panel, citing the need to include those most affected in any planning efforts 

"There is no such thing as a broken system. Each system is perfectly aligned to achieve the results it currently gets." –

Ron Heifetz, Founding Director of Center for Public Leadership at Harvard University

"I see a lot of people today advocating for systems change but going about it without systems thinking." –

Jonathan Raymond, President of Stuart Foundation
Today in 2020, 22 years after Valerie Billingham made her pronouncement, community engagement is increasingly emphasized while many barriers continue to hinder it. And when community engagement is done, it is typically approached as a box to check on a list by conducting a survey, interviews, and even massive town hall gatherings. This is followed by retreating to a conference room and crafting elaborate strategies using Powerpoint SmartArt, likely not even reflecting what was heard. Reflecting on why this occurs, we now suggest a primary driver: the expertise of lived experience is typically assigned the least value, legitimacy, and trust as compared to the expertise of organizational leaders, researchers, evaluators, consultants, and others. Now, we have been referring to this full range of expertise, and have found people's expertise derived from lived experience to be irreplaceable.
During these pandemic times, we have seen many national and local surveys of older adults, which have focused primarily on assessing and addressing vulnerabilities of older adults as a designated high-risk population. We see our community engagement as building on and complementing these needs assessments to leverage older adult assets, shape the systemic and programmatic solutions they want and need, and accelerate their empowerment to help achieve them.
Keeping the above in mind, we merged methods across several fields that could help achieve our desired level of representation and empowerment. Community-based participatory research (CBPR) engages research participants to help shape, conduct, interpret, and own and use research, and has been used in grassroots organizing and public health. Human-centered design (HCD) places people's experiences at the center of a design process, and has been used to develop products and services in the private sector and is gaining traction in the social sector. Meanwhile, older adults have the highest civic engagement of any demographic group, including volunteering and election participation. The 2020 election just saw adults ages 65+ represent nearly one-quarter (22%) of voters, a 6% increase from 2016 and the largest increase of any age group.
Our process has evolved and we have learned a ton along the way, and we still have work to do. We have appreciated and liberally drawn from the leading work of AARP, World Health Organization, Frameworks Institute, and others. And we have partnered closely with local Washtenaw County leaders and especially older residents to address the local context. We recognize the need to reach a more racially and socio-economically diverse range of older adults to better represent the diversity of the aging experience. Our older adult CRP team will play a big role in doing that.
We are sharing our interim learning, and Washtenaw County's older adults' insights, for all of our colleagues in the philanthropy, nonprofit, and government spaces whose work affects older adults. We encourage you to strongly consider where and how older adults fit within your work, whether you approach that work from an angle of social issue, place, equity & justice, or others. Because they most likely do, either directly or indirectly, explicitly or implicitly. And we encourage you to consider how you will engage older residents as your partners.
1.  Aging is the one true unifier. We are all aging, all the time. And more of us will be entering this stage than ever before. 
2. If considering life to be a journey with various stages, the healthy aging stage of life can last 20-30 years or longer*. This is the length of time from birth through young adulthood, and yet aging and older adults as a group receive ~20% of the attention.
3. Older adults are a significant community asset, bringing wisdom, learning, and experience to any effort. Want to know what aging solutions look like?  Just ask older adults.
4. As we age, we undergo transitions that change life circumstances and can increase needs around family and community, health, and other areas of life. These changes can be challenging, though many older adults are able to compensate and maintain thriving lives. For older adults who are not economically secure, a layer of additional challenges exists, which essentially makes for two distinctly different aging experiences.
5. Older adults hold more similarities than differences with most demographic groups, and healthy/fulfilling aging and aging justice overlap strongly with common social issues, i.e. older adults share similar needs for economic security, community connection, affordable housing, transportation, food security, and health care and wellness. 
6. In most local communities, it is the same systems that address needs for older adult residents and also for young families, students, working professionals, and others. 
7. Having systems and programs increase their "ages-friendliness" to improve their support of older adults can have ripple benefits for everyone.
8. Despite their assets and commonalities, older adults tend to be neglected within efforts that affect their lives, e.g. community organizing to shift systems may focus on "passing the mantle" to the next generation of young people, and efforts in common fields like workforce development and affordable housing may fail to consider and/or engage older adults as a constituency.
9. In shaping systems to work better, it is essential to consider what they look like at the hyper-local level, e.g. how people experience systems differently across the varying urban, suburban, and rural areas that comprise many counties across the country.
10. Older adults are more than ready, capable, and willing for increased empowerment as change agents to shape and realize the solutions they want and need.
* Assuming the aging stage to begin ~60 years of age, though exact definitions vary and there is not one distinct age marker