Boston Public Schools
Strategic Planning with Boston Public Schools: Designing the Next Phase of a College, Career, and Life Readiness Partnership Coordination
Summary
Challenge:
Boston Public Schools high schools have varying levels of capacity to coordinate the work of College, Career, and Life Readiness (CCLR) partners working in their schools – resulting in varying levels of support for students in grades 9-12 as they prepare for, apply to, and transition into postsecondary opportunities. In addition to working with multiple combinations of CCLR partners, schools differ in terms of class size, culture, and the needs of their students, making it difficult to mandate a standard process for partner coordination across the district. Without strong coordination, it is challenging for key stakeholders to understand what milestones students have met and/or still need to meet to graduate high school college, career, and life ready.
Overview:
This strategic planning process aims to strengthen and improve the coordination of CCLR partners working in Boston Public Schools as a transition from the Boston Workforce Investment Network (WINs). Launched in 2015, WINs was a six-year, $26-million investment funded by the State Street Foundation that brought together the Boston Private Industry Council, Bottom Line, College Advising Corps, uAspire, and Year Up to strengthen their collective ability to support students along a pathway to postsecondary success. Root Cause served as the backbone organization of this initiative, coordinating the network and implementing processes to increase communication and help partners streamline service delivery so that more students received the CCLR preparation and skill-building support they needed.
As the WINs initiative ends, Root Cause is continuing to work with Boston Public Schools' leadership to strengthen partnership coordination across the district through the design of flexible coordination models that are tailored to the needs and capacities of BPS schools. This strategic planning process serves as the transition from the WINs initiative to school-driven CCLR partnership coordination. The process aims to sustain best practices from WINs while designing a spectrum of partnership coordination models to be implemented across the district.
The strategic planning process launched in May 2021 (overlapping with the last few months of the WINs initiative) and will continue throughout Fall 2021. The process is designed with a two-pronged approach to ensure:
Capacity exists to coordinate partnerships at each school that meet the unique needs of students.

Data is tracked across the district by all necessary stakeholders through the work of the CCLR data analyst (already in place).
Goals & Results
The central goals of the strategic planning process are to:
Develop a Theory of Change for CCLR partnership coordination to ensure students graduate BPS college, career, and life ready

Deepen understanding of school capacity to coordinate career and college readiness partners across the district

Explore and recommend CCLR partnership coordination models in BPS high schools with varying capacity

Align with the work of the BPS CCLR data analyst to design a district-wide system that measures student progress towards shared CCLR milestones
To date, Root Cause has interviewed staff and leadership at eight BPS high schools to learn how they are currently coordinating CCLR partnerships within their school and how this process could be strengthened through use of data, increased capacity, and/or professional development; a survey will be sent to all high schools this fall. We also launched a working group with key stakeholders to further gather input from school staff and BPS administration. The information gathered will be used to recommend high level customized CCLR partnership coordination models across BPS high schools.
With this next phase of partnership coordination, even more Boston Public Schools students will receive the targeted and effective support they need to apply to, transition to, and thrive in postsecondary opportunities and beyond.
News:
Forbes
How State Street Builds Partnerships To Strengthen Boston's Future Workforce
Read More >
The Boston Globe
Boston Public Schools Hit Highest Ever Four Year Graduation Rate
Read More >
About the Partner
Boston Public Schools
Boston Public Schools is committed to transforming the lives of all children through exemplary teaching in a world-class system of innovative, welcoming schools. Boston Public Schools partners with the community, families, and students to develop in every learner the knowledge, skill, and character to excel in college, career, and life.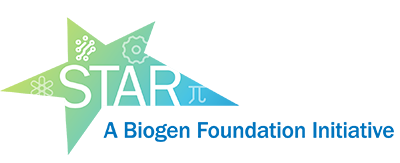 We're celebrating four years of the Biogen Foundation STAR Initiative in our Year 4 Annual Report! Read more about how our collective action with Biogen and STAR partners is helping to strengthen STEM education equity and access for young people underrepresented in STEM throughout Cambridge and Somerville.
Read the report