Byte Back
Strategic Business Planning for Growth
Summary
Challenge
With more than 20 years of experience, Byte Back is beginning expansion beyond the DC area. Byte Back recently expanded into Prince George's County, Maryland, with funding from the Greater Washington Works initiative and through a partnership with Prince George's County Economic Development Corporation. Byte Back has also obtained strong early funding to start its growth planning and implementation. Recently, Byte Back received a $360,000 WeWork Creator Awards prize and a $500,000 grant from the Citi Foundation to support capacity building and growth implementation. With inquiries from across the country, the landscape is promising to serve more communities.
Overview
Byte Back approached Root Cause to discuss their opportunities for growth and how to navigate them in order to expand services to ensure that more adults across the nation have the opportunity to attain living-wage careers using tech. To advise leadership on a path toward growth, Root Cause reviewed all documentation and past history of Byte Back and conducted interviews with Byte Back's leadership team, Board members, staff, instructors, students, funders, and employer partners. We researched comparable models with peers in the field and facilitated multiple working group meetings with the Byte Back team and stakeholders to gather input, discuss key issues, and produce work to inform the growth plan. Throughout the process, we kept in close contact with the Executive Director and Chief Operating Officer to gather feedback, ask questions, and move decisions forward. We worked collaboratively with Byte Back's leadership team to write and refine iterations of a growth plan, which included an action plan for programmatic and organizational growth readiness work, a timeline for growth strategies and implementation, and a local site illustrative financial model.
Goals & Results
Root Cause worked with Byte Back's leadership team to develop a growth plan that enables more adults to achieve living-wage careers through tech training and career preparation.
Through the growth planning process, and with a high level of engagement from Byte Back's staff, Board, and stakeholders, Root Cause has helped to create the following resources for Byte Back to guide its future work:
A growth plan in PowerPoint to serve as a road map going forward; the roadmap includes need and opportunities summaries, a visual operating model, strategies for programmatic and organizational growth readiness, growth strategies and implementation guide, a financial sustainability plan, and an outline of risks and mitigation strategies

A financial model to guide local budgeting and to be adjusted as the work evolves

Road show slides to be adapted to different audiences

An investor prospectus to be adapted and used in fundraising

An Action Plan (in Excel) for Byte Back's programmatic and organizational growth readiness work through 2020

A closing memo with clear recommendations for areas to prioritize
Byte Back has exciting and ambitious goals, and after this rigorous planning process, the organization is now equipped with the planning tools to expand their services and help more adults transition to living-wage careers. This plan will be put into action quickly – in October of 2018, Byte Back was awarded TD Bank's Ready Challenge Award, a $750,000 grant to fund their expansion into Baltimore.
News:
Technically
Byte Back wins $775,000 grant to expand to Baltimore in 2019
Read More >
Technically
Byte Back wins $360K at WeWork Creator Awards Global Finals
Read More >
Business Wire
Citi Foundation Announces Recipients of National $20 Million Community Progress Makers Fund
Read More >
About the Partner
Byte Back
Byte Back changes the economic trajectory of working adults who lack the formal education and tech skills to secure living-wage employment. Tens of millions of living-wage jobs available to workers without a college degree now require basic tech skills. Without access to opportunity, low-income individuals are likely to continue to experience significant socioeconomic, educational, and racial inequality, and the digital divide in our nation is likely to continue to grow. Through its inclusive tech training and comprehensive student supports, Byte Back is committed to ensuring that these workers have the opportunity to attain a living-wage career using tech.
For more information, visit byteback.org.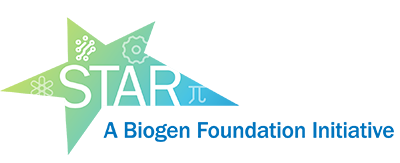 We're celebrating four years of the Biogen Foundation STAR Initiative in our Year 4 Annual Report! Read more about how our collective action with Biogen and STAR partners is helping to strengthen STEM education equity and access for young people underrepresented in STEM throughout Cambridge and Somerville.
Read the report