Meet the new Associates: Adaiah, Alekhya, and Yifan
September 5, 2019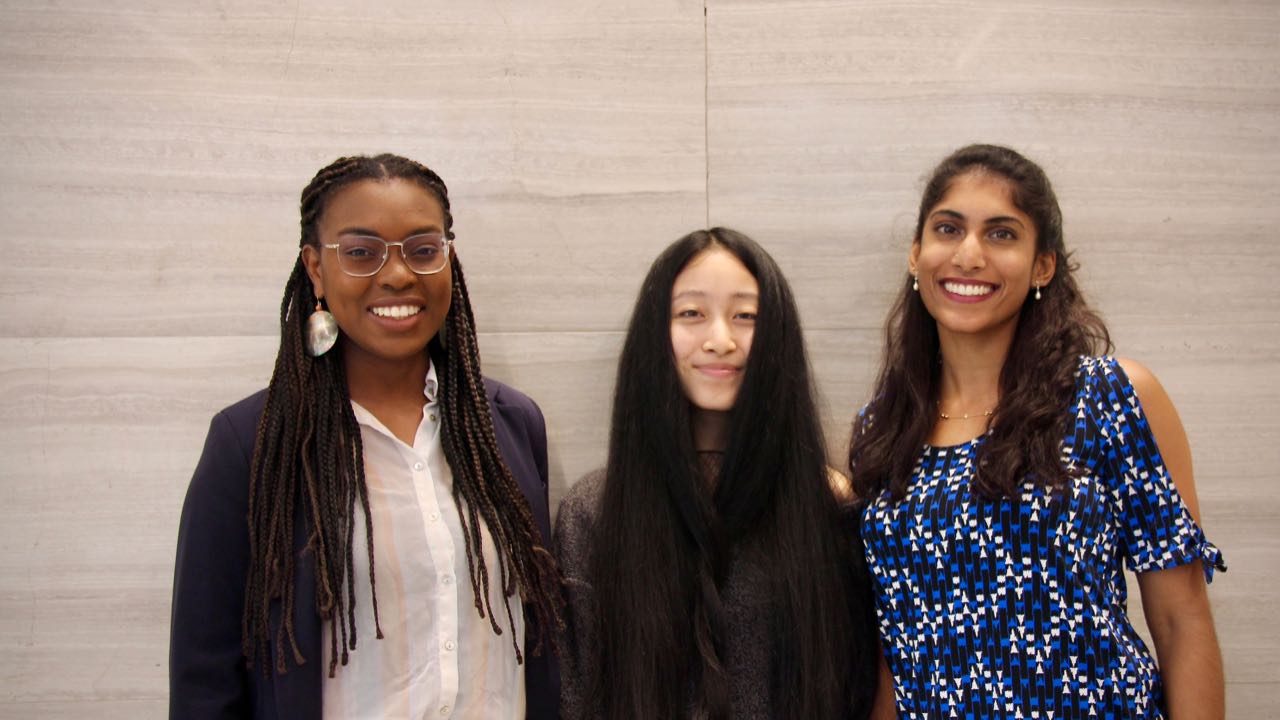 Left to Right: Adaiah, Yifan, and Alekhya
What past experiences led to your interest in joining Root Cause? 
Adaiah:  All of my past studies and work experiences have made me a community-driven and equity-focused professional. Specifically, my experiences teaching in Atlanta Public Schools and interning at the Crim Fitness Foundation demonstrated the disconnect between communities and the policies and/or institutions charged with protecting their interests.  Root Cause takes the time to consider the true impact of their work in promoting equity and in centering community needs and voices. My interest was piqued when I saw the work Root Cause has done in education and healthcare. That work signaled to me that Root Cause really gets it.
Alekhya: During my undergraduate, I studied public health through Cornell's Biology & Society major, with a minor in Global Health.  As a student, I taught in Cornell's Prison Education Program, which brought me into direct contact with one of our nation's cruelest institutions, as well as some of the brightest and most intentional students I had ever met. That experience illustrated to me what an alternative system and philosophy of justice and forgiveness could look like, as well as the truly transformative power of learning and knowledge. It also expanded my notion of 'public health,' which I now believe encompasses not just our physical, mental, and environmental health, but also our financial health, spiritual health, and the strength of our communities.
After graduating in late 2017, I spent a year working in Mohali, India, at the Indian School of Business' (ISB)  Max Institute of Healthcare Management. There, I was immersed in an academic research environment, working initially on a study which examined the timeliness of immunization delivery under India's national child immunization scheme. Later on, I had the opportunity to take over project management, analysis, and report writing for a costing project on India's family planning program. I knew that I wanted my next professional experience to build on the project/relationship management and social research skills I developed at ISB, but that I wanted to apply them to projects at the intersection of health, education, and socioeconomic justice. Thus, the Associate position at Root Cause — working with a diverse group of clients, with the vision of facilitating continuous success across the lifespan — was a natural next step. 
Yifan:  Working with/as leadership in the nonprofit and public sectors brought out questions that were really meaningful and urgent to me. I want to focus on long-term, population-level projects designed with the community, which were also the criteria that drew me specifically to Root Cause.
What are you most excited to learn more about in your role?
Adaiah:  I am most excited about the research opportunities available and the opportunity to use data measurement and analysis in ways that advance the needs of individuals and families. 
Alekhya:  I am interested in getting a more nuanced understanding of the social sector. What are the strengths, weaknesses, successes, and areas for improvement in non-profit work? What are nonprofits uniquely poised to contribute within the wide, and often messy, ecosystem of policy makers, health care providers, educators, and others working to improve the quality of life and equity in America? How does the sector need to be reformed, and what actions need to be taken to get us there? 
Yifan:  Learning from lenses very different from my own. I think those conversations spark a lot of growth, especially toward what I know I don't know and—really exciting—what I didn't know I didn't know. My view has limits–the  hope is that I keep finding where those are. I'm also excited to learn more about equity frameworks in practice, how to build effective public-private partnerships, and how programs are already doing continuous quality improvement work, whether they call it by those words or not.
What types of work inspire you most, and why? 
Adaiah:  Community engagement work and local and state advocacy work inspire me the most. There's nothing more powerful than a community that can define its needs and can articulate them to those charged with protecting their rights. Moreover, holding our lawmakers and governing bodies accountable to their constituency is critical to progressing our national fight for equity and representation. These types of work are about growing and sustaining our communities in a way that benefits the majority. It's truly inspiring!
Alekhya:  I am constantly inspired by movements that operate across community lines, especially those which illuminate both patterns of injustice and strategies for change across eras and geographical spaces. What I love about the US is that a tremendous number of the world's cultures, histories, and scholarship (both formal and informal) exist and overlap here. We are far from a utopian society, but we hold an incredible amount of diverse and historical knowledge — about how to live equitably, how to share resources, how to learn, govern, and nurture land — within the many communities that live here. I think some of the most promising and exciting work taps into that potential — centering the knowledge of marginalized communities, and building partnerships across diverse histories —  in pursuit of a stronger, healthier, and more equitable future for all of us.
Yifan:  Following the previous question, aligning people who think differently. It's difficult and necessary work, and work I find really interesting. Also, building effective and equitable ways of organizing people, with those people. Also, jazz. 
What's on your personal reading list?
Adaiah:  Dawn by Octavia Butler, White Noise by Suzan-Lori Parks, The Poet X  by Elizabeth Acevedo, Homegoing by Yaa Gyasi, and Dune by Frank Herbert, to name a few.
Alekhya:  The Collaborator by Mirza Waheed, Living for Change, the autobiography of Grace Lee Boggs, and There There by Tommy Orange. I'm currently reading Bad Samaritans by Ha-Joon Chang. In terms of books related to the sector, I'm looking forward to reading Doughnut Economics by Kate Raworth, and Evicted: Poverty and Profit in the American City by Matthew Desmond.
Yifan:  At the top, Richard Russo's Empire Falls and more of Asimov's Foundation trilogy.