You're On the Performance Measurement Train. Now What?
November 16, 2015
The good news: more nonprofits are taking performance measurement seriously. We had a standing-room-only crowd for our workshop on "Demystifying Performance Measurement" at the Massachusetts Nonprofit Network conference. Whether we're drawn into it by the public fascination with "big data," by pressure from funders, or—ideally— because we genuinely want to understand how we're doing and how we could do better, the conversation is getting real.
So great. We're all on the train. But there's a big difference between getting on the train and getting the train to go anywhere.
Two themes in the session stayed with me:
Aligning ambitions for impact with the scope of the intervention can be difficult
At the session, the director of a small dance organization asked me how she could measure the effect of one-off workshops that she holds in schools. She's right to wonder; it would be difficult to assert any measurable effect on children from an hour and a half dance workshop. Yet that doesn't mean that we shouldn't have dance workshops in schools. Is she stuck? Nope. Think on this question for a moment; I'll come back to it.
Building a performance measurement culture is at least as important as building a performance measurement system
My wingman in our session was Marc Jacobs, CEO of our client Jewish Family Services (JFS) of Metrowest. Marc described a two-year journey that continues today to create a culture that values performance measurement. It's not just about identifying outcomes and metrics, it's also about building a learning organization, one that has a culture of relentless commitment to improvement. An organization with a performance measurement culture uses measurement not just for compliance but for finding all of the nooks and crannies of a program model that can be adjusted and improved in pursuit of the bottom line: serving people better and getting better results.
As a thank you to Marc for joining me at our session, I agreed to facilitate an all-staff meeting at JFS the day after the MNN Conference. The conversation revealed how far Marc and his team have already moved on that journey. The discussion was about how to find the right measures, how to ensure that gathering data didn't get in the way of the human interactions that are at the core of any nonprofit's mission, and how to let go of closely held beliefs that don't stand up to close examination when the right metrics are measured. I walked away knowing that at JFS, the train has left the station and is moving down the tracks with momentum. So about that dance program…
The dance organization director may have an option at the intersection of both points above, creativity and culture. I suggest: join forces with other arts nonprofits that also do these small-scale interventions in schools. Align your goals, and together measure the collective effect of the work. (And let me know how it goes!)
I realize that with all of the jargon that surrounds performance measurement, it's tempting to conclude that this is all some sort of Dark Art accessible only to those with Harry Potter-like powers. The lesson in the discussions at the MNN Conference is that whether your organization is big or small, we can all get on that train.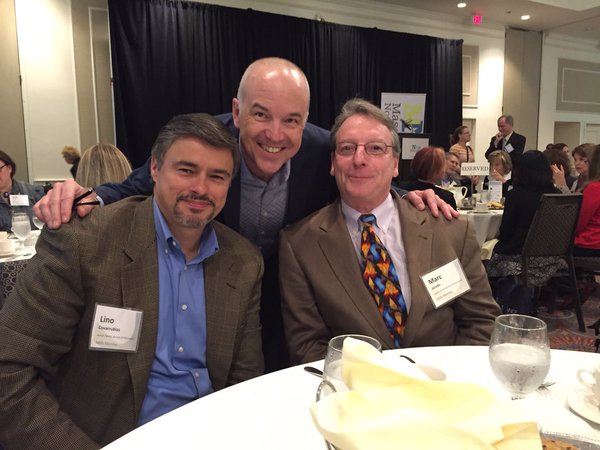 Image:  Steve Pratt (center), with Marc Jacobs (right) and Lino Covarrubias (left) from Jewish Family Services enjoy the MNN Conference.