Ways to Work
More Than Wheels
Merger Exploration with Ways to Work & More Than Wheels
Summary
Challenge
By late 2009, two social sector organizations were exploring how best to grow and scale their impact. More Than Wheels had started opening new offices throughout New England, but quickly realized that establishing the infrastructure for each new office was costly. In addition, the organization was struggling with managing multiple offices and growing its client base. Similarly, Ways to Work faced challenges as it explored options for expansion of financial services. The organization wanted its services to benefit a broader pool of clients and had decided that starting a new service was the best way to achieve this goal.
At the suggestion of the Robert Wood Johnson Foundation, the two organizations began discussions to determine whether a merger might help both organizations overcome their individual challenges and achieve their aspirations to increase their impact – and if so, what the merger would look like.
Overview
Root Cause worked for these two organizations to facilitate a merger exploration process with support from the SeaChange-Lodestar Fund and the Robert Wood Johnson Foundation. Our team met with each organization about their individual needs and priorities. We represented both organizations' interests throughout discussions to determine ways they might be able to work together to meet their individual challenges while expanding their impact. Our consultants also guided the organizations through the completion of legal and financial due diligence and synthesized and packaged information about the two organizations in a way that was both respectful of each organization and sparked discussion about potential collaboration. Through this process, our goal was to help Ways to Work and More Than Wheels determine their future course of action – a merger, partnership, or collaboration through information-sharing.
Goals & Results
As a result of this merger exploration process, More Than Wheels and Ways to Work decided that the best way to move forward was to collaborate to understand how they could each improve their own practices based on the strengths and lessons learned by the other organization. Although they did not decide to merge, both organizations found that the process of engaging in an in-depth, facilitated process in which they exchanged information and discussed strengths, challenges, and ways to improve was extremely beneficial and helped propel both organizations to a higher level of impact.
As discussed in Collaborative Learning Case Study on More than Wheels and Ways to Work, this process of collaborative learning can be a cost-efficient way for two organizations tackling similar social problems to benefit from each other's strengths and scale their impact more quickly without having to address the organizational and cultural challenges of a merger.
About the Partner
Ways to Work
Ways to Work is based in Milwaukee, WI. Through its network of partners across the country, Ways to Work provides financial education and support to working families with challenging credit histories. Ways to Work is an alternative to predatory lenders for people with a demonstrated commitment to improving their credit status, moving up in the workforce, and achieving increased self-sufficiency.
As an asset-building and economic self-sufficiency program for underserved populations without access to conventional financial resources, Ways to Work helps families move off of and stay off welfare and dependency programs. Instead of handouts, it provides families a helping hand toward a more stable financial future.
Ways to Work partners with non-profit, family-serving agencies that are members of the Alliance for Strong Families and Communities. The Alliance family of companies includes both Ways to Work, Inc. and FEI Behavioral Health, which are both based in Milwaukee, WI.
For more information visit waystowork.org/index.php.
More Than Wheels
Founded in 2001, More Than Wheels is a non-profit vehicle purchasing program that works with consumers to buy a reliable, worry-free vehicle regardless of their credit situation. More Than Wheels has guaranteed over 2,000 car loans to help individuals with poor or no credit to improve their credit, establish positive payment history, and complete a financial education course to improve their financial situation. Individuals with no credit issues can also participate in its program as More Than Wheels works with them to get the best deal on a reliable car that meets their needs. The organization also partners with other non-profit organizations and employers to help improve their workplace, enhance their image, or raise awareness through partnerships with employers and other nonprofits.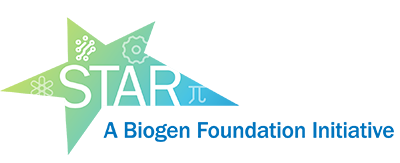 We're celebrating four years of the Biogen Foundation STAR Initiative in our Year 4 Annual Report! Read more about how our collective action with Biogen and STAR partners is helping to strengthen STEM education equity and access for young people underrepresented in STEM throughout Cambridge and Somerville.
Read the report